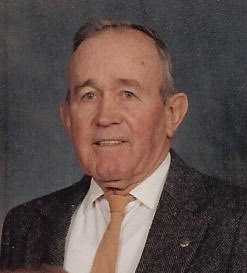 Fairbank: Charles (Chuck) Richard Murray age 85  passed away Friday, September 2, 2016 at Maple Crest Manor Nursing Home in Fayette, Iowa from complications of Alzheimer's Disease. He was born April 12, 1931 in Algona, Iowa the son of John Earl and Alice Jeanette (Bravick) Murray. Chuck grew up near Buffalo Center where he attended and graduated from the Buffalo Center School in 1948. From September 23, 1952 to September 23, 1954 he served in the Army with Company H of the 87th Infantry at Fort Riley Kansas, achieving the rank of Sergeant. Upon completion of his military service he came home to farm with his father and brother, James, growing row crops and raising purebred black angus cattle. He also worked with Federal Crop Insurance, during that time he sold crop insurance and also adjusted crops, he the served on the Review Team eventually becoming a district director stationed at Emmetsburg, Mason City, Winterset and Independence. On October 24, 1964 he was joined in marriage to Carol Haberkamp at the United Methodist Church in Fairbank, Iowa, just one of three weddings that day. Following a wedding trip to the west they settled down in the Buffalo Center area for almost eight years before moving to the Fairbank area in 1972.
Survived by: his wife Carol of Fairbank, three sons; Patrick (Emmanuelle) of Goose Creek, South Carolina, Michael (Janelle) of Buffalo Center and Thomas (Melissa) of Marion and a sister ; Helen (John) Kelso of Lake Mills, four grandchildren; Victoria, Justin, Rebecca and Tyler Murray along with three step-grandchildren; Ben Newman and Kennith and Madeline Hunt, two sisters-in-law; Eleanor Murray and Beverly Mathison and many nieces and nephews.
Preceded in death by: his parents, a stillborn son, Mark Todd, his brothers James and John Murray and a sister Margaret Moening.
Services: 11:00 am Tuesday, September 6, 2016 at the United Methodist Church in Buffalo Center, Iowa.
Visitation: 3:00-6:00 pm Monday, September 5, 2016 at Woods Funeral Home, Fairbank and from 9:30-11:00 am Tuesday at the church.
Burial: Olena Mound Cemetery, Buffalo Center, Iowa.
Memorials in lieu of flowers the family suggests memorials be made to the United Methodist Church or St. Croix Hospice.