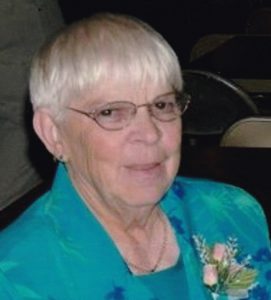 Fairbank: Mary Margaret Franck age 81 passed away peacefully at her daughter's home in Sacremento, CA on June 11, 2016. Mary was born July 7, 1934 in Waterloo the daughter of Bernard and Veronica (Fischer) Nachtman, she married Kenneth Franck Sr. November 27, 1952 at Immaculate Conception Catholic Church in Fairbank. Kenny and Mary had four children that they raised together in rural Fairbank. She was a member of the Immaculate Conception Catholic Church as well as a longtime member of the Fairbank American Legion Auxillary.  Mary enjoyed many hobbies including gardening, bird watching, cooking, fishing, playing cards and reading. She also loved spending time with her family.
Survived by: one daughter; Paula Cook of Sacramento, CA, three sons; Steve (Grace) Franck of Tripoli, Kenny Jr. (Dixie) Franck and Darrell (Wendy) Franck both of Fairbank, 11 grandchildren and 19 great-grandchildren.
Preceded by: her parents and step-mother; Myrtle Nachtman, her husband; Kenneth Franck Sr. a brother; Donald Nachtman. a sister; Ann Jones and a son-in-law Rick Cook.
Services: 10:30 am Thursday, June 30, 2016 at Immaculate Conception Catholic Church, Fairbank.
Visitation: 4:00-7:00 pm Wednesday, June 29 at Woods Funeral Home, Fairbank.
Inurnment: Immaculate Conception Catholic Cemetery
Memorials: in lieu of flowers the family requests book donations to the Fairbank Public Library.