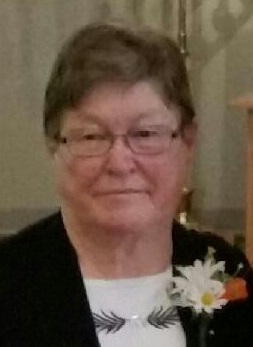 HAZLETON:  Karen Elizabeth Grantham, age 74, passed away on Monday December 28, 2015 at Mercy Hospital in Oelwein.  Karen was born on May 27, 1941 in Fairbank, daughter of Herbert and Mary (Fraggrett) Shannon.  She graduated from Immaculate Conception Catholic High School with the class of 1959.  On August 29, 1959 Karen was united in marriage with Robert Grantham at Immaculate Conception Catholic Church in Fairbank.  She was a homemaker along with working beside her husband on the family farm.  Karen enjoyed her immediate family and camp-outs at the farm.  Her greatest joy was spending time with her grandchildren and great-grandchildren.
Survived by: her six daughters: Jean Ann (Robert) Henn of Hawkeye, Carolyn (Mark) Hemesath of Ridgeway, Linda (Chris) Waterman of Manchester, Shirley Grantham of Hazleton, Diane (Dean) Hughson of Winthrop and Kelli (Nick) Krum of Winthrop; her seventeen grandchildren, two great-granddaughters and one great grandson on the way; her sister Janice (Ralph) Stanek of Marion and her brother Jerry (Holly) Shannon of Fairbank.
Preceded by: her parents Herbert and Mary Shannon; her husband Robert; her brother Charles Shannon and three grandchildren: Anthony Robinson, Curtis Hughson and Olivea Krum.
Services: 10:30AM on Thursday December 31, 2015 at Immaculate Conception Catholic Church in Fairbank.
Visitation:  4-7PM on Wednesday December 30, 2015 with 6:30PM Vigil Services at the Woods Funeral Home in Fairbank.
Burial: Immaculate Conception Catholic Cemetery at Fairbank.
Memorials: May be directed to the family.